Soccer Captain's Information:
We have a huge soccer community playing the sport we all love and devoted soccer captains.  Below are some general guidelines for the soccer captains and also players in the league.  If there are any questions about the information below simply ask…
SOCCER LEAGUE DIRECTOR AND OFFICIALS:
The soccer league is operated as a side hobby. The soccer league is not a full time position. The soccer league has been in operation since 2003 and we have solid processes in place to help ensure an enjoyable, safe, playing environment for everyone.
Our officials are certified and have been officiating recreational soccer leagues for years and capable of managing the game, but we do appreciate each captain controlling their players to ensure an enjoyable experience for everyone.
HOW TO REGISTER YOUR TEAM:
Want to join us for the upcoming season? Great! Registration is quite simple. Simply reach out to the League Director for the process. We will ask for your team name and if you have any artwork to use for the online store. Then we'll setup a payment method and your players can start making payments. It's literally that easy.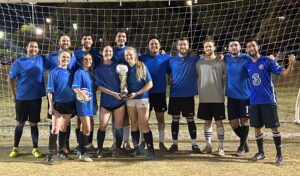 SOCCER PAYMENTS:
The league charges each player directly taking the burden of collecting funds from the captain. We do need the captains to communicate with their players the need to make the payments. We have a webpage setup to track who has paid to make it easy to find out who still needs to pay. There will be a minimum number of paid players before the team will be placed on the schedule.
Online Store: https://phxsoccer.com/make-a-payment
Soccer Payments: https://phxsoccer.com/players-who-paid
SOCCER JERSEYS:
If your team needs jerseys then you can order shirts online through the league. Our requirement is just that teams have matching shirts with numbers.
We have cotton and polyester shirts if you want to order from us. This will simplify your job and make it easy to get additional shirts when someone new joins the team. Just keep track on the color selection you choose for your team and tell them to request the same style.
You are more then welcomed to buy shirts from other suppliers. The minimal markup on the shirts is to offset various expenses. We do not want to be out of pocket selling the shirts, nor do we want to make it a huge revenue source. We just want to help soccer teams ensure everyone has a jersey. The vendor we use is Explosion Sportswear.
Jersey Online Store: https://phxsoccer.com/soccer-jerseys/
SOCCER ROSTERS:
We do require soccer captains to submit a roster to the league. We will create one based on the online payments, but at times the payments do not match those that are playing for various reasons. Because of this we will need each captain to verify the roster and make changes accordingly.
SOCCER SCHEDULES:
Our soccer league tries to limit changes to the schedule, yet this is unavoidable at times. When we change the schedule we try to avoid doing it a week before the games…. but at times we need to. Therefore, always check the schedule. Ask your team to check it during the week and even on game day. If you see something on the soccer schedule that doesn't look right…. missing dates or even a field change that doesn't look right then notify the league.
MEDICAL COVERAGE:
Playing soccer is a physical activity that can result in injury.  Everyone is strongly encouraged to have insurance.  The league does not provide insurance for our participants.  There are policies that individuals can get on a monthly basis that are very reasonable.  If you need help finding short term accidental insurance please contact an insurance broker.  When selecting a policy ensure to fully understand the coverage.
WAIVERS: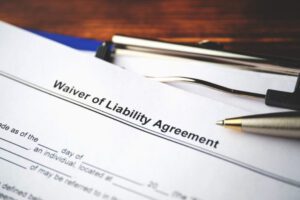 Every participant that plays in the sports league needs to complete a waiver. The waiver can be downloaded, signed, and handed in to any official.  The soccer captains need to get the waivers to the soccer coordinator.
REFEREES / OFFICIALS:
We have a great set of soccer officials, yet they do make mistakes. Officials make mistakes on all levels and the intramural soccer leagues are no different. If there is an issue with a particular referee then simply let the league know about it.
RAIN OUTS:
We will try to change the league website with any update regarding weather conditions followed by emails to the captains. The webpage that shows the standings and schedules. This will help get the word out regarding the rain out. A general rule is that we will play unless the City closes the fields.